Building On Up
December 5, 2017
As you walk through EnterTRAINment Junction you can't help but notice the incredible details of the display along with the impressive buildings and structures throughout. All the buildings are made from scratch and many of the skyscrapers are built by one man, John Kitterman. The name might sound familiar as Kitterman built our Coney Island replica which was featured in another blog.
Kitterman says that some of his inspiration came from the book, The Buildings on Main Street; a guide to American Commercial Architecture by Richard Longstreth. The photos featured in the book helped during the fabrication period.
One of the most recognizable structures is found in our modern city. Our Space Needle is a loose interpretation on the Space Needle in Seattle, WA so most people notice that immediately.  The cities themselves are a collective grouping of buildings from all over the country- even the world. Many are replicas; some are imaginary, but they are all quite impressive.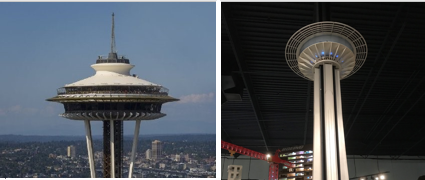 The Fox Theater (based on the one in Detroit, Michigan pictured below) is featured in our middle period. A funny story about our Fox Theater- the billboard says that Abbott and Costello are performing, however, we made a mistake and spelled Abbott, with one "t." One of our guests pointed it out to us, so we made one of our miniatures climb a ladder to add the missing "t."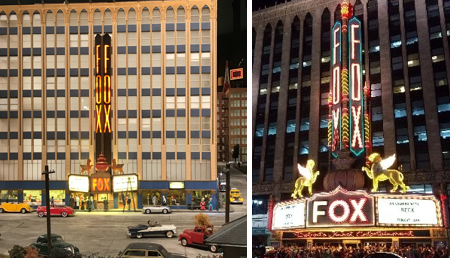 Greyhound bus station from Evansville, Indiana is also featured in the middle period

The replica of Elwood Bar & Grill from Detroit, MI has impressive details on the inside-from a man flipping pancakes, to a jukebox and more. See up close pictures of it here: November Status Report.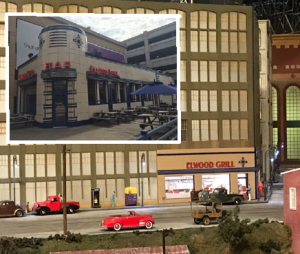 If you've seen our layout, the picture below might look familiar as it was the primary basis for buildings in the middle city period.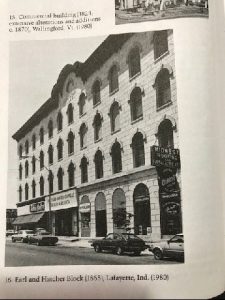 This is the Woolworth building in the layout which looks pretty realistic if you ask me!

Iron Bank building from Auckland, New Zealand. This is 1 of 2 internationally inspired buildings in the display! All of the rest of the buildings are based off of ones from the U.S.

Bank of Dubai was the inspiration for our 3M building.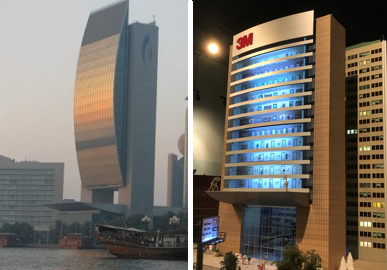 Calder Stabile on the campus of Indiana University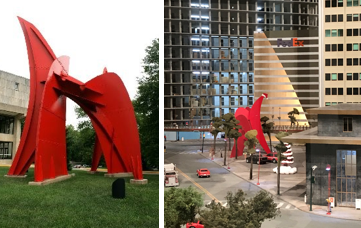 Kitterman liked the look of the exoskeleton building pictured on the right so he made up his own for the modern city.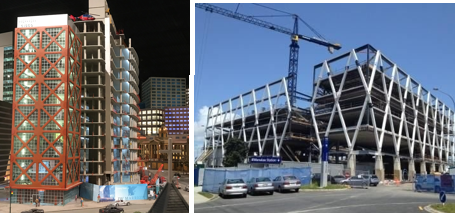 As you can tell, a lot of research and thought went into the many buildings throughout our display. It makes me appreciate the detail and craftsmanship even more!