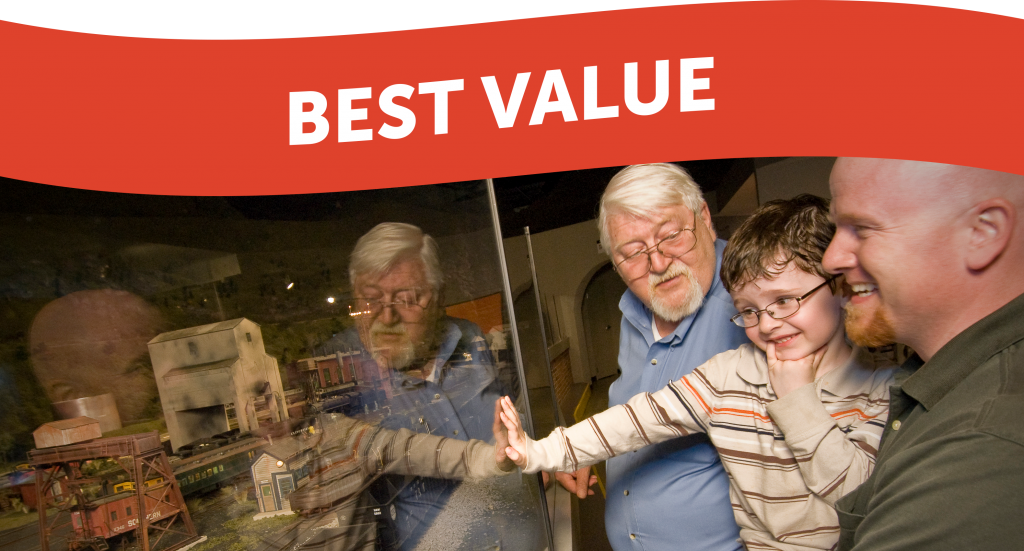 Winter Escape
Do-It-All
Save $2 by buying online!!
Thru January 31, 2021
 The Do-It-All includes all our  great attractions including the World's Largest Indoor Train Display, Indoor Kid's Play Area, The A-Maze-N FunHouse and the World's Most Complete Collection or Marbles!
Not valid with other discounts or specials.  All other tickets may be purchased at the main ticket windows. Kids 2 & under are FREE!

TRAIN JOURNEY
Train Journey – the World's Largest Indoor Model Train display
Imagination Junction – children's interactive play area
American Railroading Museum – how railroads have changed our lives
Expo Center – The World's Most Complete Collection of Marbles, Neil Young's Lionel Traveling Train Display, the Greater Cincinnati Railway Society's historical library and more.
Adult
Senior (65+)
Children (3-12)
2 and under
$14.95
$11.95
$11.95
FREE!
Rides are not included in Train Journey ticket price. Socks must be worn on the children's climbing structure.
Ask about our special group rates.

A-MAZE-N FUNHOUSE
NEW – Crazy Caper
Mirror Maze
Clown College
Outer Limits
Curtain Chaos
And Much More!