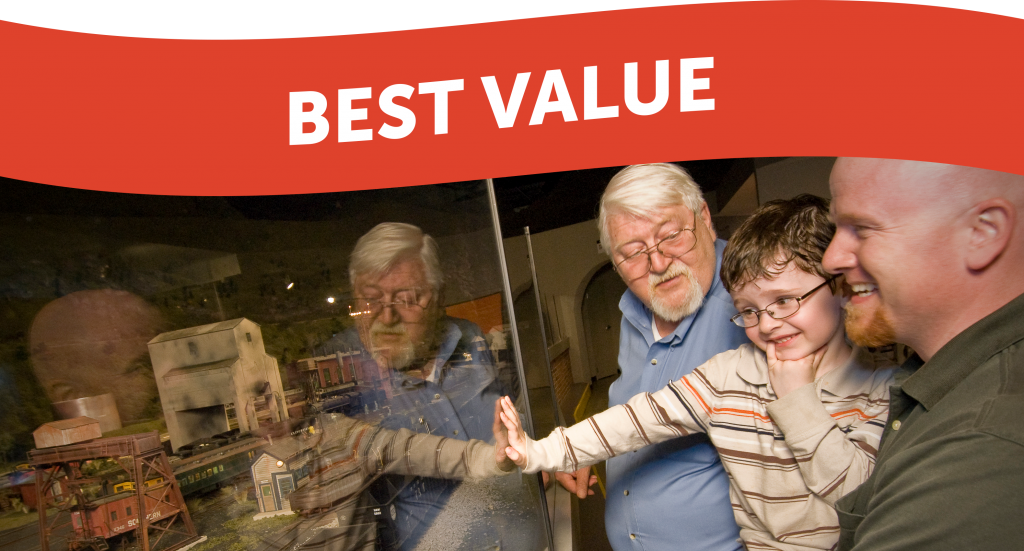 MONTH OF MADNESS
DO-IT-ALL
March 1st thru March 31st
Save $2 by buying online
Admission includes the A-Maze-N FunHouse with the region's largest mirror maze, the hilarious tilt room and more!! Plus the World's Largest Indoor Train Display, our Kid's Play Area, and The American Railroading Museum. And Hot Dogs are only 50¢ each all month long.
Not valid with other deals or specials.
Buy online now and Get It All for only $15.95
All other specials may be purchased at the main ticket windows. Kids 2 & under are FREE!

TRAIN JOURNEY
Train Journey – the World's Largest Indoor Model Train display
Imagination Junction – children's interactive play area
American Railroading Museum – how railroads have changed our lives
Expo Center – The World's Most Complete Collection of Marbles, Neil Young's Lionel Traveling Train Display, the Greater Cincinnati Railway Society's historical library and more.
Adult
Senior (65+)
Children (3-12)
2 and under
$14.95
$11.95
$11.95
FREE!
Rides are not included in Train Journey ticket price. Socks must be worn on the children's climbing structure.
Ask about our special group rates.

A-MAZE-N FUNHOUSE
NEW – Crazy Caper
Mirror Maze
Clown College
Outer Limits
Curtain Chaos
And Much More!