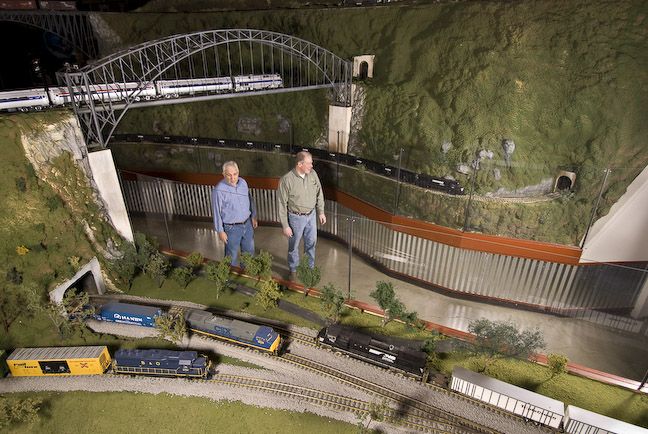 Our Vision:
"Create something unique, a one-of-a-kind family entertainment center that would entertain, educate and promote railroading and the hobby in a magical environment."
Our History
EnterTRAINment Junction owner, Don Oeters, a successful Cincinnati businessman and train hobby enthusiast, had an idea that turned into the World's Biggest Model Train Layout in the country.
Bruce Robinson, local architect, took Don's ideas and developed concept drawings that brought them to life in what can only be called an "indoor theme park" so Don quickly decided to move forward and create this major attraction. The attraction would be home to the world's largest model train display which takes you on a virtual train journey. Additionally, it would include an indoor kid's playground, a railroad museum, as well as a gift shop, hobby shop, snack bar, private rooms for birthday parties and events, and eventually, an old style fun house to give it the feel of a nostalgic Cincinnati amusement park.
Don's dream was simple: make it about the history of railroading, have it be interactive and for all ages. In early 2007, construction began, which was led by Larry Koehl, the Greater Cincinnati Garden Railway Club, Miami Valley Club, and other volunteers.  They planned the train display area and began to lay track, construct mountains and build miniatures. After a hectic year of construction, EnterTRAINment Junction opened in August of 2008.
To develop and create a world class museum, Don enlisted the help of Dan and Ruth Britt of Hamilton, OH. They were able to take mountains of information to create interactive and educational displays that are enjoyed by all.
EnterTRAINment Junction continues to be a dream come true for the whole family – from children to railroad aficionados. Don continually upgrades the attraction with new additions including new structures and train controls.
Timeline: