Birthday Party & Birthday Party Ideas for Train Lovers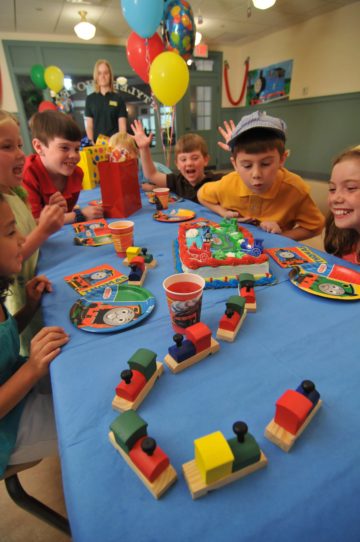 Looking for an ideal birthday party place for kids, parents, friends, and family can all have fun together? Pull into the EnterTRAINment Junction and you'll know you've arrived at the perfect spot!
Stop Here for the Perfect Train-Themed Birthday Party
Hosting a birthday party at EnterTRAINment Junction is easy and fun because we have birthday party ideas for all ages. (Including birthday packages with a new Escape the Room Challenge – ask us for info!) Families tell us they like to celebrate birthdays here, because everyone can have fun together, and even the hosts can enjoy the party.
EnterTRAINment Junction is the one place to stop for birthday parties that are affordable, fun, and memorable! Because every family has its own take on the "best" way to celebrate, EnterTRAINment Junction offers a variety of packages to choose from, with prices starting at under $10 per person. Yes, that includes food, entertainment AND admission! And, the birthday guest is always free!
Bring Your Big Birthday Party Group Here!
Going all out? The Gold Spike package is the best way to host a big birthday party!
The Gold Spike package is designed to provide the most fun for big parties, at a value price. Fifty (50) party guests enjoy do-it-all admissions, a scavenger hunt with prizes, 2-1/2 hours in two separate party rooms (great for crowds of all ages!) and food that includes pizza, pop and cake for all guests. And, there's more: the Gold Spike package is especially memorable for the birthday guest, who gets to ring the birthday steam train bell!
Contact us to learn more about the unbeatable Gold Spike package.
Why Is EnterTRAINment Junction Perfect for Fun Family Birthday Parties?
EnterTRAINment Junction was built for children, families, and railroad aficionados of all ages to relax, learn and play together. The huge entertainment center features a railroad museum, an indoor children's play area with a maze and funhouse, an outdoor kid's train ride, and, the newest addition, an escape room challenge.
While EnterTRAINment Junction was designed with children in mind, the train display captivates guests of all ages with impressive interactive displays. The 1,000 square foot replica of Coney Island Amusement Park features working rides such as the Lost River, Tumblebug, Flying Rockets and more.
Families find that birthday parties at EnterTRAINment Junction are the most enjoyable for everyone – and they're fun and easy for hosts and guest alike. Make sure your next party is fun for everyone – contact us today!
BEST VALUE
30 person package as low as $9.65 per person
LEARN MORE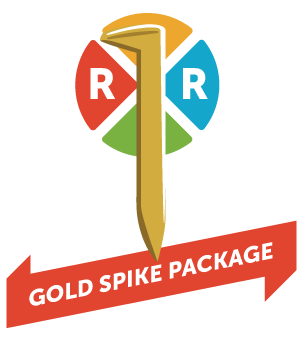 SUPER VALUE
50 guests:
50 Do-It-All Admissions
2 Party rooms for 2 1/2 Hrs
13 Large pizzas (8 slices each)
10 Pitchers of drink
Sheet cake
Engineer hat & scarf for birthday person
Free return child coupon for ages 3 to 12
Scavenger hunt with prizes
Birthday person can ring the birthday steam train bell
Reserve Now
16 guests:
EnterTRAINment Junction party invitations
Party supplies plates, napkins, utensils, cups, etc.
Food (if purchased): slice of cheese pizza or hot dog, bag of chips, drink
Engineer hat and scarf for birthday guest
One attraction admission
Both attractions!
Reserved seating inside patio preview area for 60 minutes
Party Host
Private party room for 60 minutes
Ice cream cup
Children receive goodie bag ages 3 to 12
Free Return Child Coupon for children ages 3 to 12
Prices starting at $159
($199 with food)
Prices starting at $189
($229 with food)
Prices starting at $219
($259 with food)
Reserve Your Party Now