Want to work for a fun place?
November 1, 2018
It's that time of year again and EnterTRAINment Junction is looking for fun, team-driven individuals to join our JFAM! Christmas is coming up and we need lots of "elves" to get us through our busy season!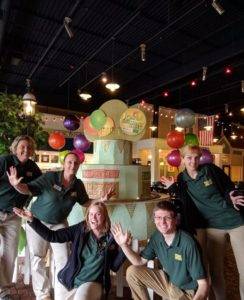 Our associates get to work in a wide variety of positions- from being a party host to selling admission tickets, working in the gift shop, hobby shop, or café, attending to the fun house, or helping Santa as an elf, there are so many opportunities for learning and fun!
One of the greatest things about working at EnterTRAINment is the wide variety of people we have working here- for some, it's their first time job, for others they are looking for something to do during retirement. Regardless of the reason, there positions for all ages and abilities!  (applicant must be 16 +)
We have become a family here which means we have tons of fun! (We have staff outings and many of our staff will hang out outside of work.) Fun aside, our team is one of the most supportive, encouraging, and hard working groups of individuals I've ever met and couldn't ask for better coworkers!
Weekend shifts are our biggest need at the moment- which is perfect for students needing extra cash. We will have some weekday shifts available as well so empty nesters, retirees, or anyone looking for some additional holiday cash is welcome to apply!
If you're interested in joining our team, fill out our online application or stop by the Junction – 7379 Squire Court, West Chester, Ohio, 45069 . Associates are eligible for discounts on food, 4 free "do it all" tickets after 30 days, and discounted merchandise after 60 days.