Why Christmas and TRAINS go together
November 29, 2019
It's that time of year again… time to decorate for Christmas, hang ornaments on the tree, and maybe put  a beloved train around the base of the tree. What do trains have to do with Christmas and why are they often paired together?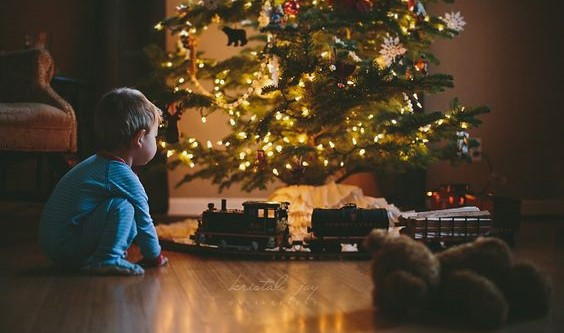 We are unsure how the tradition of trains under the Christmas tree got started, but we are happy that it is a tradition nonetheless!
One possible reason was that when Lionel first started producing electric toy trains, they were instantly very popular. Children were more familiar with trains than automobiles at the time so toy train sets were a popular Christmas gift. Kids would open their presents on Christmas morning and then of course they wanted to assemble and play with their toys after opening. Assembling the train set around the tree only made sense.
Another reason trains might be popular at Christmas is because they evoked powerful emotions. People often traveled long distances to reach home or to see their families.  Most journeys involved traveling by train. Even if you didn't travel for the holidays many people relied on trains to deliver packages and presents.
Over time, people began building more elaborate layouts over the years. Instead of just a circular track, families began adding whole villages underneath the Christmas tree. (We did at our house growing up!) Some people have HO scale or G scale trains. Some people have battery operated trains or wooden trains. Some people have Polar Express or Thomas and Friends… No matter what your style is, trains are always an excellent gift idea and Junction Hobbies and Toys  can help you find just what you're looking for for that perfect holiday touch!
Even if you don't have a train under your own tree, come to EnterTRAINment Junction and see all the trains under our trees! Christmas at the Junction runs now through January 1st!