When you say Christmas, we say TRAINS!
November 15, 2018
Christmas and trains always seem to go together… Maybe it's the train around the tree, maybe it's the polar express, but whatever the reason is… we are ready for the combining of our two favorite things!
Since opening in 2008, EnterTRAINment Junction has been excited to provide a FREE Christmas display each year which is open to the public. Not only is the expo center nicely decorated with Christmas trees and train displays, there are some photo stations as well!
Today we're going to look at the magic behind the Christmas display that the volunteers build every year. On average, it takes them a week to build the Christmas layout… it takes a while because it's all custom built! It usually takes 6-8 volunteers to build the display and what makes it special is the fact that it's different every year!
There's around 250 feet of track that runs on 4 different levels. Once the modular tables are built, the volunteers lay the custom track and add chicken wire. The snow (cotton) is then wrapped around the chicken wire to create the snowy wonderland.  Once that is complete, the volunteers add all the scenic touches- canals, tunnels, buildings, etc.
It's always amazing to watch the progress of the Christmas train display and catch a glimpse of all the hard work the volunteers did with our main train display. Below are the different stages of creating the seasonal layout: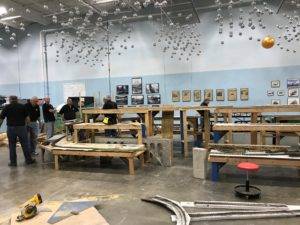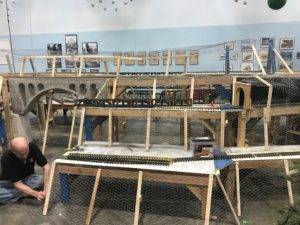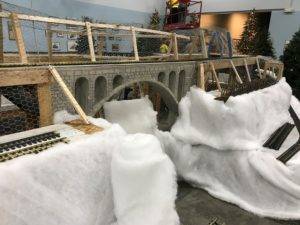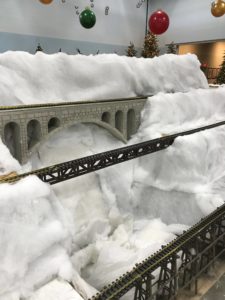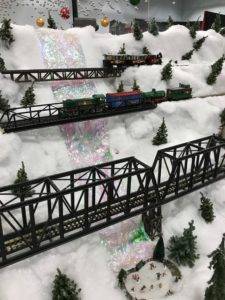 Be sure to check out this FREE Christmas train display here at EnterTRAINment Junction as well as partake in our other holiday fun! Starting November 17th Santa will be visiting with us! For more information please see our website!