Ways to spark creativity with your wooden train display
June 27, 2018
Whether you're looking to save some cash or looking for something to keep your little one occupied, we have a few simple ideas to add some unique flare to your child's wooden train display.
Add a little bit of nature to your layout without spending a lot of money. Have your little ones make trees out of pipe cleaners. The options are endless! Twist them into different shapes and use different colors for different seasons!

Use construction paper or felt to make a lake or roadway. Cars, boats, and planes can run alongside the trains for triple the fun!

Make your own city with pen and paper and attach along the sides of the track. You can also create your own shed using a small box. (dryer sheet box works very well!) Your child will love having a home to rest the trains in!

Create a zoo or a safari with little animal figures. Trains can either drop guests off at the station or take them on grand tour of the animal world! Brio even has an old zoo set if you're able to find one! Otherwise, create your own and explore the possibilities!

Buy a few lego wooden train connectors and build an entire city! Kids love legos and kids love trains so this combination seems to be a match made in heaven!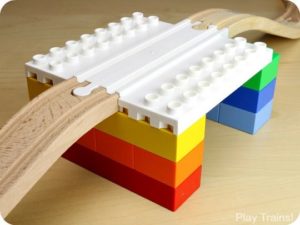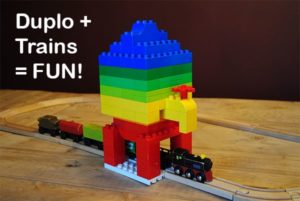 Are there ideas we missed? Something that your little one likes to create? Let us know in the comments or give us a shout on facebook!