Hot Dog Madness
March 14, 2020
Do you like hot dogs? If you answered yes, you've come to the right place! One of the most notable things about March here at the Junction is… hot dogs! Yes, you heard correctly-  EnterTRAINment Junction's café offers 50 cent hot dogs for the entire month of March! We have been known to sell over 5,000 during the promotion … that's a lot of dogs!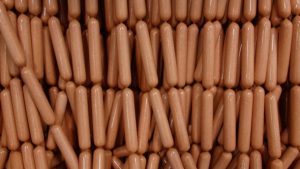 While that may seem like a lot of hot dogs, on July 4th alone Americans will eat 150 MILLION of them! Here are some other interesting facts that you may not know about this popular food item:
Did you know that mustard is the most used topping for hot dogs? Followed closely by ketchup of course… other popular options include onions, chili, relish and sauerkraut.
While Junction hot dogs run a mere 50 cents in March, you can pay up to $169 per dog in Seattle at a place called Tokyo Dog! (Talk about a gourmet meal!) So what exactly does $169 get you? A 12-inch smoked cheese bratwurst topped with butter-teriyaki grilled onions, maitake mushrooms, wagyu beef, foie gras, shaved black truffles, caviar and Japanese mayo on a brioche bun…. I think I'll stick to our 50cent version! 🙂
Hot dogs have been sent to space! Many astronauts prefer hot dogs to the famous astronaut ice cream found in museums and gift shops.
It takes about 6.1 bites to consume the average hot dog.
 Between Memorial Day and Labor Day, Americans will eat a staggering 7 billion hot dogs.
So, when you visit the Junction this month, we hope you've saved up your quarters for lots of yummy treats! Talk about a deal!