Free Christmas Train Display!
December 14, 2017
It's that time of year again – the time where you see Christmas décor everywhere and trains around the tree, but why are trains more prevalent at Christmas time?
Legend has it that when Lionel first started producing electronic toy trains back in the 1900's, it became a staple of Christmas. Model railroading was an exciting new hobby and children often requested train sets at Christmas… it became a natural thing to run them underneath the Christmas tree.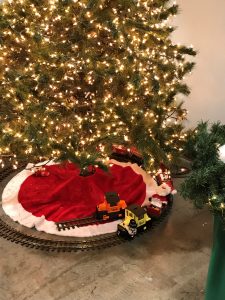 Dating back even further, some go on to say that trains had increased sentimental value as they were the primary means of transporting people home to their families and a way to ship presents for the holidays.
It makes sense, when you think about it -that trains and Christmas go together… that is why every year our volunteers work hard to build our Christmas display which is located in the fabulous Main Street Holiday exhibit, which is free to the public.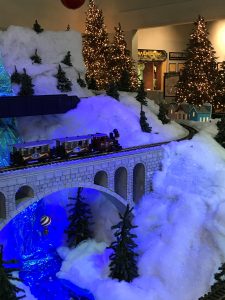 Our Christmas display that's built by volunteers takes them about 1 week to complete. It's reused from year to year and the cotton gets replaced every couple of years. It's all very difficult to piece together and what makes it even more challenging is that the layout is different every year. The sculpture of the layout and the track design changes, but other than that it's all the same parts. One of the most challenging things about this layout is that sometimes the snowy cotton gets stuck in the wheels of the trains which cause them to derail. Aside from that, the trains have been chugging along smoothly and enjoying the winter scenery.  You might even notice that this is the first year some of the buildings are lit up and also new this year is that we now have 4 loops instead of 3!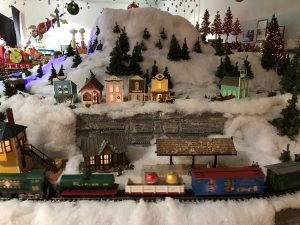 If trains had a personality they would tell you that their favorite season at EnterTRAINment is Christmas at the Junction! Don't forget to check out our regular Train Journey and A-Maze-N Funhouse attractions: tickets