classic train movies!
June 7, 2018
My husband is a huge movie buff and we've been on a bit of a movie kick recently. He has gotten me to watch many of these movies for the first time ever. (Before meeting him I only watched Disney movies and chick flicks… it's safe to say I've come a long way!) In this blog I'm going to highlight some of the best/most well known train movies and give my rating at the end. The ratings are the opinion of the author and not EnterTRAINment Junction as a whole. 😉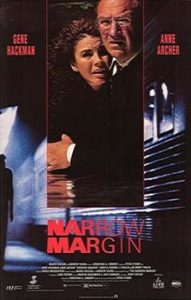 Narrow Margin is a thriller/action rated R. A woman witnesses a murder and then decides to hide in a remote cabin. The LA district attorney finds her whereabouts and tries to convince her to testify in court. She is reluctant, but when the cabin is shot at by hit men, she agrees to go with him. From there, they board a train traveling through Canada. Did you know the train used in the production of the movie was a BC Rail SD40-2 diesel locomotive along with privately owned passenger cars?? They were all painted to represent the Toronto-Vancouver passenger train. 
-4 stars! Overall, I liked the movie, but I don't know if I'd watch it again. It kept my interest throughout and was suspenseful, but didn't have that "AMAZING" factor.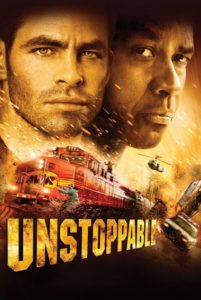 Unstoppable is another thriller/action and is rated PG-13.   This movie is loosely based off of real-life "runaway train," CSX 8888. A massive, unmanned locomotive is out of control and is full of toxic chemicals. Any accident would involve many casualties and be harmful to the environment. A veteran engineer paired with a new, young, conductor are the only ones who can stop the threat and the two end up risking their lives to save others.
-5 stars! I like movies inspired by true-life events so of course I enjoyed this movie. The plot was simple, yet still exciting. This was one of the movies I HAD seen prior to my husband telling me about it. I thought the actors were phenomenal and turned it into a real nail biter!
Source Code is a thriller/drama rated PG 13. A helicopter pilot becomes involved in a military operation which allows him to experience the last few minutes in the life of Sean Fentress who died during a commuter-train explosion. He repeats the same final moments over and over in order to learn the identity of the bomber and prevent a similar disaster from happening.
-5 stars! I REALLY liked this movie.  I've come to enjoy time loop movies; this one especially! It was exciting- a great story with great actors and it kept me in suspense the whole way through. I'm also a sucker for the ending. 🙂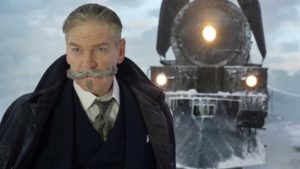 Murder on the orient express is a drama/mystery rated-PG 13. A lavish trip through Europe quickly unfolds into a race against time to solve a murder aboard a train. When an avalanche stops the Orient Express dead in its tracks, the world's greatest detective — Hercule Poirot — arrives to interrogate all passengers and search for clues before the killer can strike again.
-3 stars! I was not a fan of this movie. (the 2017 version, anyway) It seemed incredibly slow and a bit tedious… I think I fell asleep at one point, which isn't hard for me to do. It was okay, but rather disappointing. I've heard good things about the original so I'm assuming I'll end up watching that at some point.
If there are classic train movies I've missed, let me know in the comments! Have a review of your own? Let us know that too! And stay tuned for a blog featuring train movies for KIDS!