What you can learn from EnterTRAINment Junction's railroad museum
August 2, 2017
At EnterTRAINment Junction not only do we have the world's largest indoor train display, but we also have a 5,000 sq foot American Railroad Museum. The museum is divided up into sections which are detailed throughout this article.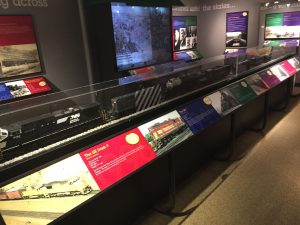 There are artifacts throughout the museum such as a railroad lantern from the steam era, interactive train quizzes where you can test your knowledge, a movie theater, and plenty of facts and stories that will expand your knowledge on railroad history! Did you know a common superstition of the railroad is that some trainmen refused to sweep out the caboose after dark fearing bad luck? 
Railroad Safety
There is a section devoted to railroad safety which offers a fun safety video, advice, and things to keep in mind such as: You should never try to beat a train at a railroad crossing, it's difficult to just the speed of an approaching train, and it's illegal to walk along railroad tracks. For more information on railroad safety, visit Operation Lifesaver.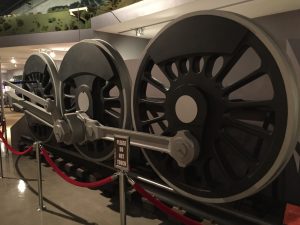 History
Railroads have played such a key role in our history. For example, did you know that before the railroad, mail took 6 months to arrive (traveling from east to west coast) but in 1876, after trains, it took a mere 3.5 days to deliver mail from New York to San Francisco! Not only did it have an impact on personal life, but it also impacted history and the Civil War. Almost all the railroad manufacturing and repair facilities were in the north which provided them a huge advantage.
Train Lore
There were many heroes and villains of the railroad which you can learn about in our museum. You can spend time learning about people like Kate Shelley, a teenage girl, who warned a passenger train against disaster and Sam Bass, a robber, who netted $60,000 from Union Pacific gold train. There are also stories of ghost trains that will send a shiver down your spine!
Railroad Facts
Another important part in of our railroad museum is, of course, learning about the railroad itself! There is a section devoted to track side signals, lantern signals. (you can even play an interactive game where you have to watch for the signals and plan accordingly!) You learn the responsibilities of different jobs on the railroad whether it be the engineer, conductor, fireman, brakeman, or passenger care.
As you can see, there is much to see and much to learn going through the American Railroad Museum. We recommend checking it out next time you're here. We'd also like to thank all who have made this museum possible!