#53 – July Status Report
July 30, 2011
The Big Train Project Status Report (Part 53)
In this installment we'll look at some new scenes that have been added to the EnterTRAINment Junction (EJ)
Layout as well as a great new addition to the train expo center.  As usual, the descriptions mostly follow the order in which you would see the described items as you follow the aisle in sequence from entrance to exit. No self respecting imaginary city would be complete without a superhero, and the Middle Period city is no exception (Figure 1).  You'll have to look sharp to find this masked and caped champion of good railroading.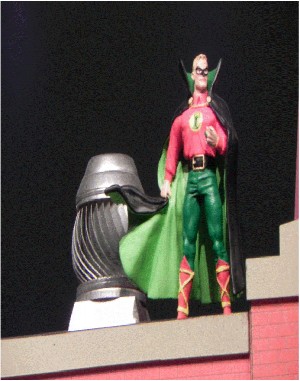 Figure 1.  The Superhero
The drive-in theater now has an image on its projection screen, of course, in black and white, as befits the times (Figure 2).  Interestingly enough, it's a picture of a drive-in theater.  That may be a bit of déjà vu for the theater patrons.  Are they the ones in the picture?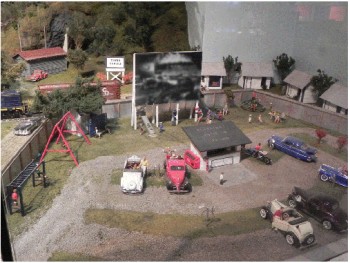 Figure 2.  What's Showing at the Drive-In Theater?
Recycling was common even in the past days of railroading.  Old box cars were turned into sheds for use by the railroad workers.  These have been added to the Middle Period engine facility behind the coaling tower (Figure 3).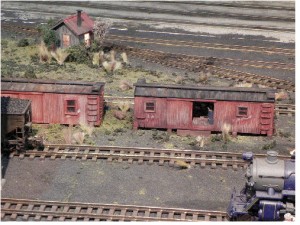 Figure 3.  Recycling, Railroad Style
Car troubles can happen anywhere, and apparently to fancy new cars as well.  Fortunately help was available for the young blonde in the parking lot of the main subway station in the Modern City (Figure 4).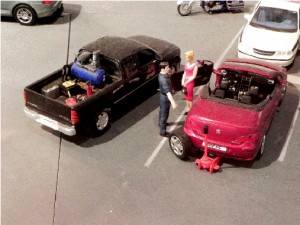 Figure 4.  Help is Here
The most notable display recently added to the EJ train expo center is a highly detailed HO-scale model of Cincinnati's historic Mount Adams Incline, built by Leo Knoll and his son Mark from 1979 to 1989 and recently refurbished by the EnterTRAINment Junction volunteers (Figure 5).  It's a wonderfully detailed and amazingly accurate representation of the incline as it appeared in several historic photos.  The ghostly images to the right and left are reflections from the plexiglass case that now surrounds the model to protect it.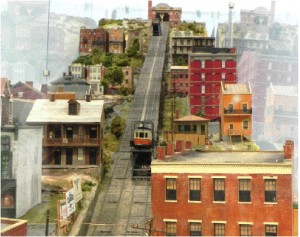 Figure 5.  The Mt. Adams Incline
Railroads weren't the only ones to recycle.  Here an old boxcar makes a perfectly suitable house for some folks living in the back woods (Figure 6).  You'll have to look for this scene from outside the layout.  It's to the left, between the gift shop and the restrooms.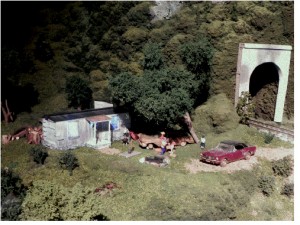 Figure 6.  Better than a Trailer
That's all for now.  More to come next time.
© 2011 Tom Bartsch
MVGRS Big Train Project Coordinator