Easy Pumpkin Pie Ice Cream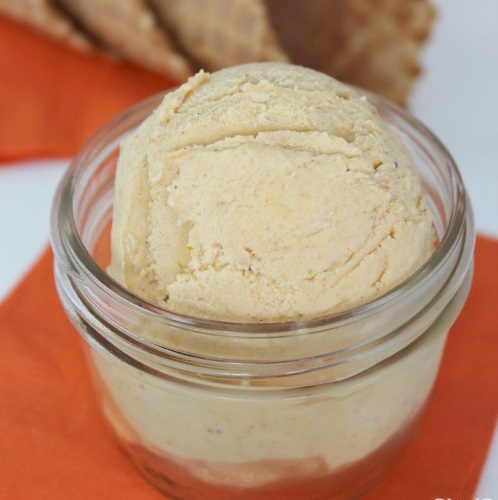 1 cup white sugar
1 teaspoon salt
1 teaspoon ground ginger
1 teaspoon ground cinnamon
 1 teaspoon ground nutmeg
1 cup chopped pecans
1/2 gallon softened vanilla ice cream
36 vanilla wafers or animal crackers
In a large bowl, combine pumpkin, sugar, salt, ginger, cinnamon and nutmeg and mix until well blended. Stir in pecans. Fold in ice cream.
Line a 9×13 inch dish or sealable plastic container with 18 cookies. Spread half the ice cream mixture over the cookies. Repeat layers. Freeze until firm!
Pumpkin Pancakes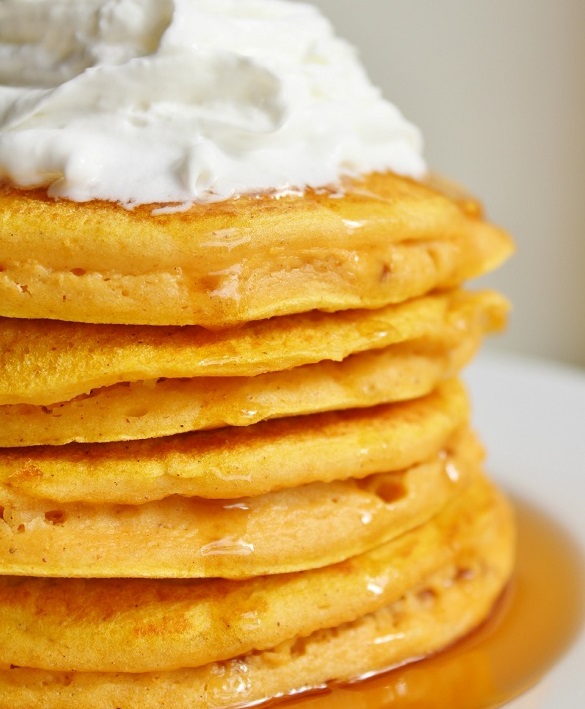 1 cup pumpkin
1 and 1/4 cups milk
3 tablespoons melted butter
1 egg
3 tablespoons brown sugar
1 and 1/4 cups all-purpose flour
1 and 1/2 teaspoons baking powder
3/4 teaspoon (up to 1 teaspoon) cinnamon
1/4 teaspoon ginger
1/8 teaspoon nutmeg
In a large bowl, combine pumpkin, milk, melted butter, egg, and brown sugar. Whisk until well combined, and the mixture is of even consistency.In a separate bowl, combine dry ingredients: flour, baking powder, cinnamon, ginger, nutmeg – mix well to combine. Add dry ingredients to wet ingredients and whisk until just combined.Heat up a griddle to medium heat, grease lightly if necessary. Use 1/4 measuring cup to ladle each pancake on the griddle. Cook until golden brown, flip to the other side, and cook until golden brown on the other side. Serve with your favorite syrup!
Roasted Pumpkin Seeds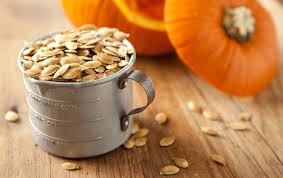 Clean the seeds.Boil for 10 minutes in salt water. Drain the seeds in a colander and dry lightly with a paper towel or tea towel. Spread seeds onto a baking sheet and drizzle with extra virgin olive oil ). Roast seeds at 325F for 10 minutes. EAT!
To add extra flavor, try adding maple syrup, or Sriracha!
Mini Pumpkin Pies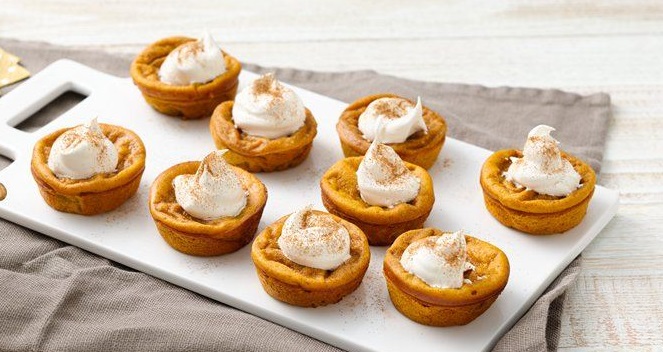 1 cup canned pumpkin (not pumpkin pie mix)
1/2 cup Original Bisquick™ mix
1/2 cup sugar
3/4 cup evaporated milk
1 1/2 teaspoons pumpkin pie spice
1 teaspoon vanilla
2 eggs
1 cup frozen (thawed) whipped topping
Heat oven to 375°F. Spray 12 regular-size muffin cups with cooking spray.
In medium bowl, stir all ingredients except whipped topping until blended. Pour 1/4 cup of mixture into each muffin cup.
Bake about 30 minutes or until muffin tops are golden brown and edges are starting to pull away from sides of pan. Cool 10 minutes. With thin knife, loosen sides of pies from pan; remove from pan and place top sides up on cooling rack. Cool 10 minutes longer, and serve with 1 generous tablespoonful whipped topping!
Sweet Pumpkin Hummus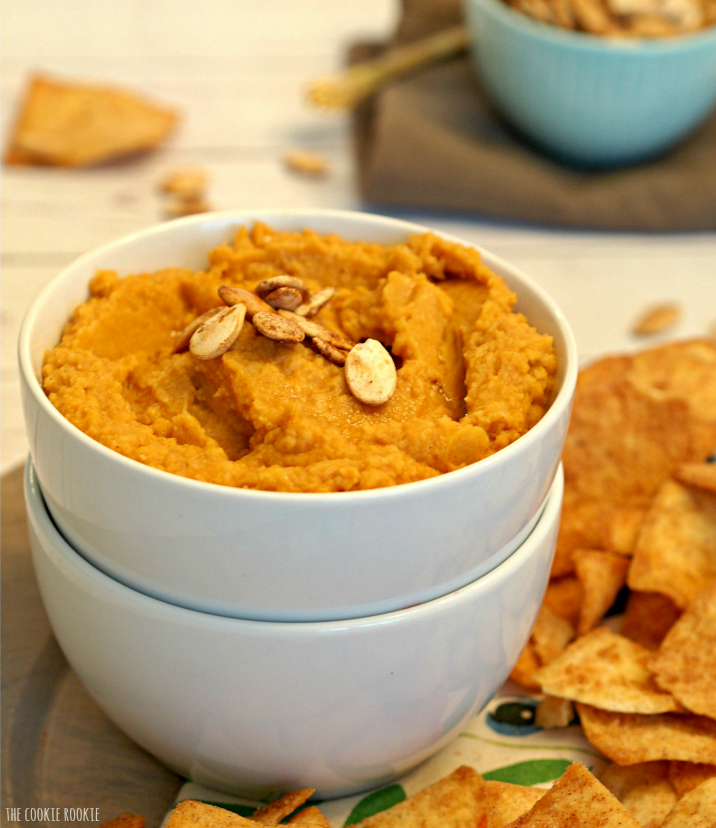 2 tablespoons extra light olive oil
2 tablespoons water
1 can chickpeas/garbanzo beans (drained and rinsed)
⅔ cup canned pumpkin
Pinch of salt
1 tablespoon agave nectar
1½ teaspoon pumpkin pie spice
Puree all of the ingredients in a food processor until well combined and smooth. Enjoy with veggies, bagels, or crackers!