Top 5 Questions We Get Asked
January 23, 2019
1. How do we clean the display?
Very, very, carefully! It's a slow and tedious process, but the main idea is to spray the majority of things down with a light spray of water. This helps cause the dust to sink to a point where you can't see it anymore.
We don't ever use compressed air because it would cause too much dust/particles to blow around, however we sometimes use a lint roller on buildings and other items throughout the display to pick up the dust. No matter how we clean the displays, it usually always ends up making the tracks dirty. Thankfully there are car cleaners that run around the tracks, but most of the time, the track has to be cleaned by hand.
2. How do we get into the display?
We can either take the plexi glass down or we can enter one of the access points from underneath the layout. Most of the tracks can be walked on, except bridges and trestles … some parts of mountains can even be walked on!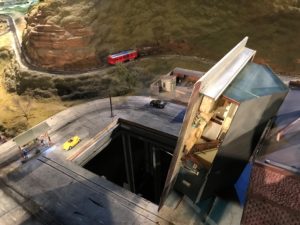 3. Who's idea was it to open EnterTRAINment Junction?
My dad, Don Oeters, as well as Larry Koehl (our train master) were the two who dreamed up the concept. They were both part of the Greater Cincinnati Garden Railway Society (GCGRS) and decided to turn their dreams into reality! Learn more about the clubs here.

4.  Is it something adults will enjoy?
It has always been our goal to be a place where entire families can come and have a good time! Whether you're a little one, a teen, parent, or grandparent there is something for everyone to enjoy!!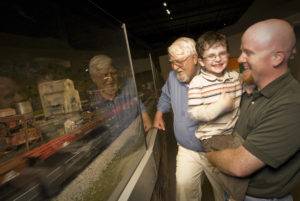 5.  Do you have a book or dvd about this place?
We are ecstatic to announce that a book is coming very, very soon!! It's on the final round of edits so hopefully we can place an order in the coming weeks.