Time for a party!
April 5, 2019
Here at EnterTRAINment Junction we LOVE celebrating birthdays! In fact, we have the perfect way to help you celebrate -whether the birthday guest is turning 1 years old or 99 years old – our facility has everything you need for the celebration of the year!
When you have your birthday party at EnterTRAINment, you are guaranteed to have a good time. It's such a unique venue and your guests will have the option of visiting the train journey, the funhouse, or both! Everything is taken care of so you don't have to worry about planning the big day or worry about clean up! (That's a relief!) Our staff is friendly and knowledgeable and will help your party run smoothly. There are also a variety of packages and themes to choose from so it's perfect for a girls or boys birthday party! They also offer add- on options so you can customize the party just the way you'd like it!
If you have a big group birthday party, don't forget to check out our Gold Spike package which includes fifty do-it-all admissions, 2-1/2 hours in two party rooms, and food for all guests.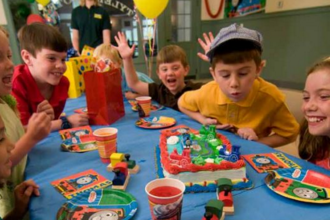 If you have questions or would like to book your party, please call Chrissy at 513-898-8000 ext 203 or email her at cpotter@entertrainmentjunction. You can also reserve a spot online and our coordinator will get in touch with you so be sure to book your birthday party today!