Santa snacks!
December 20, 2018
Who says Santa is limited to his sleigh?! We've compiled a list of fun Christmas craft/snack ideas for you to enjoy! The holidays are the perfect time for baking and snacking so why not try some of these easy creations!
1.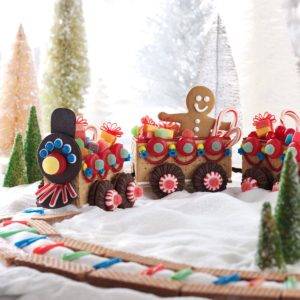 To create a graham cracker train you'll need:
-12 whole graham crackers
-12 chocolate cream-filled chocolate sandwich cookies
– 4 chocolate wafers
– Assorted decorations: peppermint candies, gumdrops, Life Savers Gummies, M&M's miniature baking bits, Twizzlers Rainbow Twists, Pull-n-Peel licorice, black licorice twists and additional candies and cookies
Just use icing to attach wheels and other décor.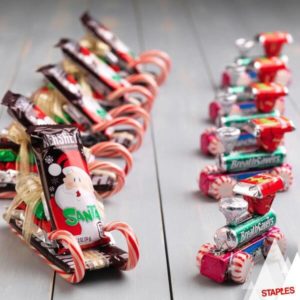 It's sleigh vs. train!
2. To create your SLEIGH: tie a chocolate bar in between two candy canes.  You can add additional small candies to look like presents on the sleigh! Bonus: if you can find a candy with Santa pictured on the front it looks like Santa is driving the sleigh!
3. To create yourTRAIN: you can use a pack of gum and glue some life savers or mints to the top of the gum. Add a rolo and Hershey kiss for the back and front of the train. Peppermints work great for the wheels. Of course, you can trade out candy of similar shapes and sizes.
What are some of your favorite Christmas creations? Let us know on our facebook page!