Mt. Adams Incline
January 31, 2020
Have you heard of the famous Mount Adams Incline? The incline was a funicular located in the Cincinnati neighborhood of Mount Adams which first opened in 1876. There were five inclines throughout the city at that time. The Mount Adams Incline was the longest running of the inclines, but sadly, it closed in 1948. This funicular carried both streetcars and automobiles up the 945 foot incline for many years.
A ride on the incline was an inexpensive and convenient way to travel to and from work. It also made the development of suburbs a reality.  Not only was it a great mode of transportation, it was a nice date idea and even became a tourist attraction.
You may be wondering why we're telling you about the incline… and it is a great question! Did you know that we have a replica of the Mount Adams Incline in our expo center? It's a highly detailed HO-scale model of Cincinnati's historic Mount Adams Incline. This replica was built by Leo Knoll and his son Mark from 1979 to 1989 and recently refurbished by the EnterTRAINment Junction volunteers.
It's a wonderfully detailed and amazingly accurate representation of the incline as it appeared in several historic photos. At left is a picture of the actual incline and on the right is a picture of the replica on display in our expo center: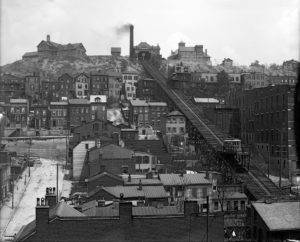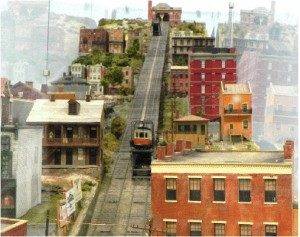 We even found a youtube link showcasing some rare footage of the incline: