Madness in March
March 1, 2020

We've gone mad with savings! March 1st- March 31st is our Month of Madness promotion. This month only you can visit our funhouse which includes our tilt room, mirror maze, disorienting vortex tunnel and more, for 50% OFF! That's less than 5 bucks per person! Plus you can buy hot dogs for only 50¢ each!
Our A-Maze-N Funhouse is designed like an old-time circus midway, and is sure to be an adventure for the whole family! Navigate your way through Curtain Chaos and the Mirror Maze – who can find the end first? Learn from the pros at Clown College then try to access the secrets of the circus in the Crazy Caper. Finally, step outside of this universe in Outer Limits – hold on tight!
Curtain Chaos  -This is challenging, silly, and fun all at once! Make your way though the maze of curtains and make silly faces in the disorienting mirrors!
Mirror Maze – I see you! Oh wait, that's not you… that's a mirror!
Outer Limits – This is definitely a fan favorite! The vortex tunnel, space room, and claustrophobic hall are all included in this attraction.
Clown College – Another hit! The tilt room is fun for all ages and can definitely mess with your equilibrium.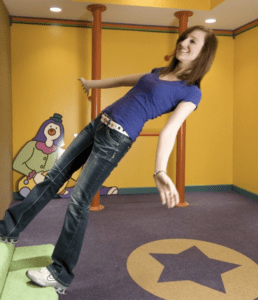 Crazy Caper – Complete with booby tracks, video challenges, and more!
Not only do we have a great deal on our fun house, we also have some great savings around the facility!
Spend $10 in Junction Café and get a FREE snickerdoodle or ice cream cup
Spend $20 in the Gift Shop and get a FREE railroad logo'd coffee mug.
Spend $50 in Junction Hobbies and Toys and get a FREE 3D puzzle (up to $18 value)