Last minute (train themed) Valentine's Day ideas!
February 13, 2018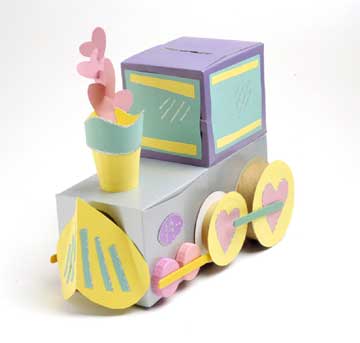 Create a train Valentine's Day box:
All you need are tissue boxes, colored paper, spools/lids, craft sticks, and a small paper cup/toilet paper roll
-The engine itself can be made from every day household items….tissue boxes! The longer one will go on the bottom with the smaller one on top. (make sure the slit is on the top so you can slide cards in!) You can even draw in a little conductor in the window!  I think that would be a nice touch! ????
-The spools/lids can be used for wheels with the craft sticks connecting them… AND, if you want to get clever, you can make a paper heart for the grill of the train!
-Paper cups and/or toilet paper rolls are perfect for the smokestacks and then you can decorate your train with hearts or any décor you see fit!
Create Valentine's Day Cards:
If you're wanting to make your own Valentine day cards, here are some train-tastic phrases to use on your personalized cards!
*hug-a-hug-a choo choo!
*I choo choo choose you, valentine!
*You're my #1 engine!
*choo choo! I like you!
*All aboard for a great Valentine's Day!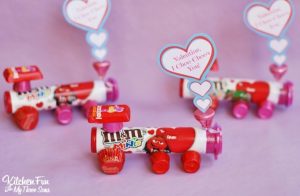 You could also make a sweet treat with candy, sure to steal the hearts of many!  Thanks to Kitchen Fun with My Three Sons for the idea!
Check out this Pinterest page for more ideas and then share your favorite valentine's day boxes and/or cards on facebook !