Have your party with us!
May 24, 2021
With restrictions loosening up and things slowly returning to normal, how about planning a birthday party at EnterTRAINment Junction?! It's the perfect place for kids, teenagers, adults, and grandparents to gather together and have fun. We've gathered a list of reasons why you should check out our party packages! 🙂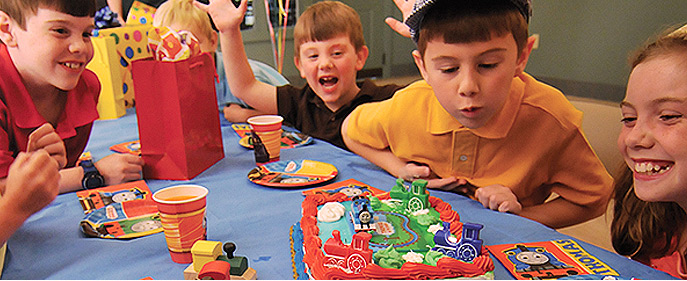 1. Cost Efficient
We know booking any kind of party can be expensive, but right now you can book a 30 person package as low as $9.65 per person! Our packages include your own space for the party, a gift for the birthday boy/girl, food (if purchased), party invitations, party supplies, and admission to one (or both) of our attractions! Here are some of our most popular packages:
16 guests:
EnterTRAINment Junction party invitations
x
x
x
Party supplies plates, napkins, utensils, cups, etc.
x
x
x
Food (if purchased): slice of cheese pizza or hot dog, bag of chips, drink
x
x
x
Engineer hat and scarf for birthday guest
x
x
One attraction admission
x
x
Both attractions!
Reserved seating inside patio preview area for 60 minutes
x
Party Host
x
x
Private party room for 60 minutes
x
x
Ice cream cup
x
Children receive goodie bag ages 3 to 12
x
Free Return Child Coupon for children ages 3 to 12
x
Prices starting at $159
($199 with food)
Prices starting at $189
($229 with food)
Prices starting at $219
($259 with food)
Party Packages
2. Enjoyable for everyone
A train themed party is a classic that all kids instantly fall in love with. Trains eliminate the problems of children complaining they don't like the theme or characters of a party. At EnterTRAINment Junction, there is something for EVERYONE! We know there will be something for every guest! Between the train display, kids play area, fun house, and more we can guarantee fun for every age! We also currently are revamping different party themes – if you would like more information about these contact a member of our group sales team!
3. Easy Party
When you have your party at EnterTRAINment, you don't have to worry about cleaning the house, decorating, getting everything ready… we have people who do all that for you! Clean up is also easy because we have a cleaning crew which means you don't have to do any prep or clean up!
4. Perfect For Any Weather
A train party at EnterTRAINment Junction will never get rained out! Not only is there never the problem of rain but there is never the problem of being too cold or too hot. Our facility has temperature regulation to make sure all guest are in a comfortable and enjoyable setting.
Families find that birthday parties at EnterTRAINment Junction are enjoyable for everyone – and they're fun and easy for hosts and guests alike. For more information on what we can offer, or for additional questions, you can contact Daniel at 513-898-8000 ext 203 or reserve your party online today!