Celebrities who like trains!
March 20, 2021
Celebrities can (sometimes) be just like us! They have their own hobbies and passions outside of acting or performing. We even have a special sign in our layout showcasing some celebrities who just so happen to like model railroading!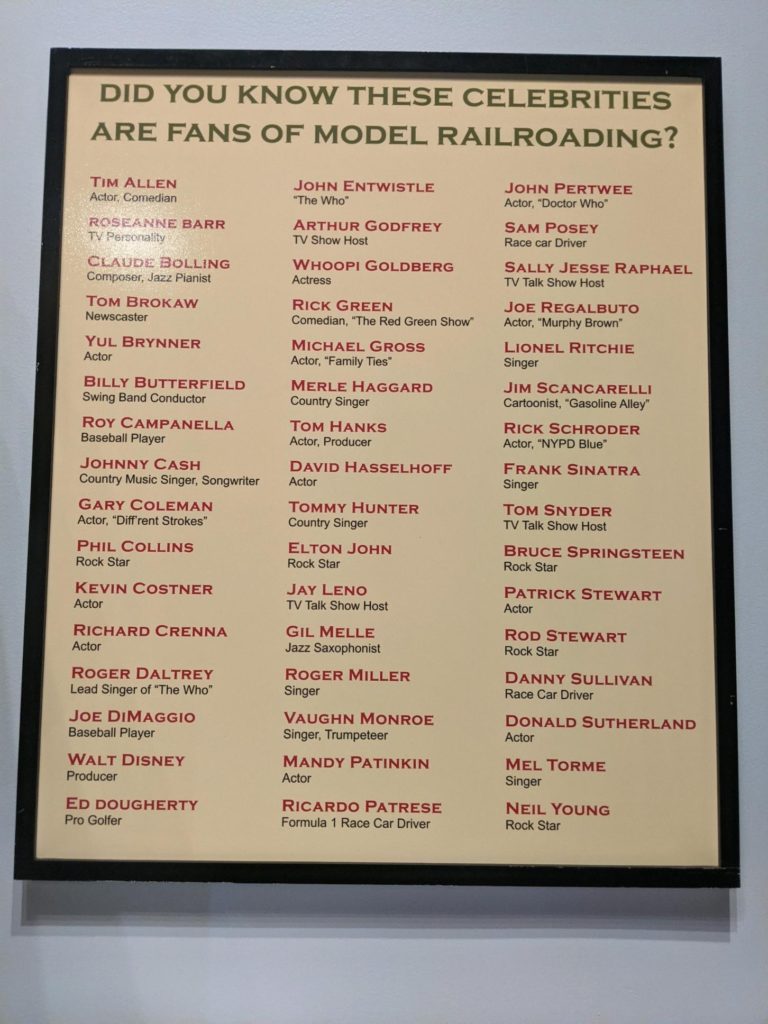 Just a few examples: Tom Hanks' love of model trains reportedly made him eager to sign on as a voice actor in the 2004 film The Polar Express. Elton John reportedly has a model railroad running through his garden. Frank Sinatra collected Lionel and tinplate model trains. He even had an entire cottage dedicated to his hobby. Walt Disney loved model trains and often included railroads in his cartoons, films, and theme parks. In the 1970s, Johnny Cash appeared in TV commercials for Lionel Trains. One of our favorites, though, is Neil Young, who now has a special connection to EnterTRAINment Junction.
Thanks to Young, EnterTRAINment Junction  now owns a piece of music history! We have singer, Neil Young's personal touring Lionel train display.  You can see a guest video of it here.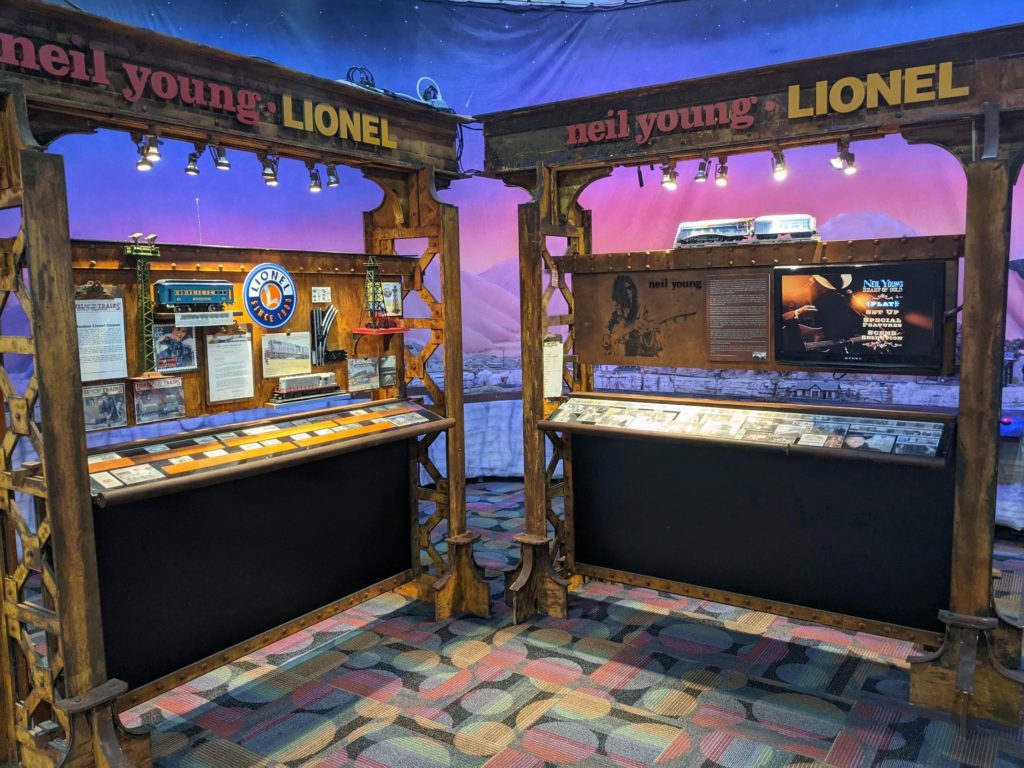 What most people don't know is that Young was an avid model-train collector. (He even purchased part of Lionel using an investment group!) Young's sons suffered from cerebral palsy so the singer used model trains as a way to interact with them and share in a hobby together. He even developed special controls which allowed his sons to control switching and power using what's called a paddle system. The boys were able to lean into the remote control to power the trains.
Many of Young's fans were unaware of his hobby, but during his 1997 H.O.R.D.E festival tour his fans got to see his other passion in life: model trains. Fans would wander into a tent and stand in awe at the train display that traveled around with the singer which was approximately 320 feet of track.
Another fun fact about Neil Young is the connection we have to him! John Kitterman, a name you might remember as being the builder of our Coney Island display, worked with Young during his touring days. Kitterman did a lot of Lionel projects with Young as well as build the train layout for the H.O.R.D.E. tour. (which we now have on display!) He was the tour bus driver during the CSNY tour and worked closely with Young and his crew.
We are so thankful to Young and Kitterman and are happy to share this piece of music history with the rest of our guests!