It's Baaa-ack! 25 cent hot dogs at the Junction
March 8, 2017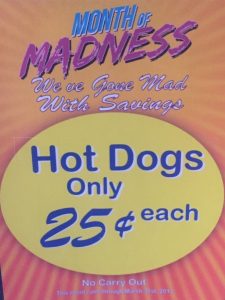 The most notable thing about March here at the Junction is… hot dogs! Yes, you heard correctly-  EnterTRAINment Junction café offers 25 cent hot dogs for the entire month of March! Last year we sold 5,000 … that's a lot of dogs!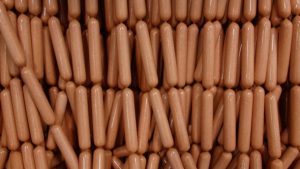 While that may seem like a lot of hot dogs, on July 4th alone Americans will eat 150 MILLION of them! Here are some other interesting facts that you may not know about this popular food item:
Did you know that mustard is the most used topping for hot dogs? Followed closely of course by ketchup… other popular options include onions, chili, relish and sauerkraut.
The longest hot dog on record was a whopping 668 feet long and was manufactured in Paraguay.
While Junction hot dogs run a mere 25 cents in March, there's a food truck in Washington which charges $169 per dog! (Talk about a gourmet meal!)
In 2016 a man named Joey Chestnut ate a record of 70 hot dogs in 10 minutes!
It takes about 6.1 bites to consume the average hot dog.
So, when you visit the Junction this month, we hope you've saved up your quarters and maybe even watched Joey on Youtube for some pointers on how to make the most of hot dog month!