5 Ways to Learn While Having Fun at EnterTRAINment Junction!
June 22, 2017
EnterTRAINment Junction is filled with learning opportunities that are so much fun, the kids won't even realize they're learning! At the World's Largest Indoor train display, our museum and indoor kids play area is the perfect place to help teach your kids, while they get to run jump and play all at once!
History
The basis of our display is rooted in history. Everything is historically accurate (minus the 10 hidden dinosaurs, of course!)  There's a section in the early period that features a civil war camp. The bridge in that camp is a reproduction of an actual bridge that was burnt down by the confederates. Almost every building and bridge in the layout either did (or still does) exist with potentially some slight modifications. Most things were modeled and built by pictures of something that existed.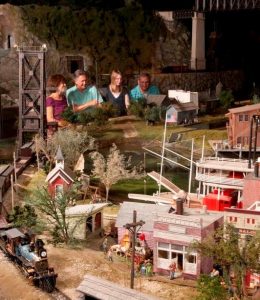 Do our scavenger hunts!
There is always something new to look for in our display-whether it's bunnies and chicks in the spring, or pumpkins in the fall, we change out our scavenger hunts each promotion! Our scavenger hunts are filled with fun and unique items to search for… (like a gumball machine or bungee jumper!) These allow you to see more of the details of the display which sometimes get overlooked.  It's also great to encourage reading the signs throughout the layout and being on the lookout for items… here, attention to detail is key!
Have them try to find the longest train track!
The tracks on our display travel under mountains, across bridges, and through cities so they will have to pay attention to where the track is traveling and figure out where it ends up on the other side. Its more challenging than you'd think!
Read all of our DID YOU KNOW stickers!
The train journey and American Railroad Museum are filled with white oval stickers telling you how Railroading has affected Americas history. You can even learn about how time zones came about…all thanks to train travel! Did you know each city had it's own time zone? It was impossible to create a train schedule with everyone on different time zones which is why congress created the time zones we still use today!
Figure out the A-Maze-N-Funhouse!
Our funhouse is filled with optical illusions that make your head spin! Can you figure out how the Ames room can make an adult look shorter than a toddler?! What about those tricky mirrors? Why do some look like you could run straight through them? There are many puzzling and mind-bending illusions and mazes to keep your mind alert and have you laughing all the way through!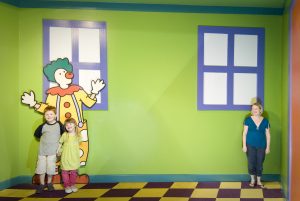 For more learning fun check out our Tiny Ted videos on Youtube!