Join the family and become a member!
June 16, 2017
With almost 4,000 pass holders, EnterTRAINment Junction is sure to be a family favorite! Some of our members visit us multiple times a week and, in just 3 visits, the pass pays for itself.  Not only is EnterTRAINment fun for the whole family, there are plenty of seasonal events to keep you coming back all year long!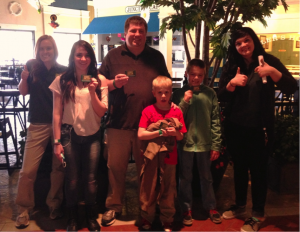 Being a member grants you unlimited admission to the Train Journey, A-Maze-N Funhouse, outdoor rides, and all of our seasonal attractions! Trick or treat and grab a mini pumpkin during our Halloween event and don't forget to stop in during our Christmas celebration to visit Santa himself.
The Junction is the perfect place to burn off a little energy for a couple hours after school and a great rainy day activity. The kids will never be bored as there are always new things to look for in the display!
Make new friends; bring a friend! Many of our members have met through the Junction and set up play dates with their kids. It's a wonderful way to meet other families and have people to talk to while the kids are playing. The Junction also offers 4 various times throughout the year in which passholders can bring a friend for a free.
It's good exercise! Did you know if you do 7 laps around the train display it's equivalent to one mile? The kids get a good workout too when they're playing in soft play structure and getting lost in our mazes!
You get discounts! Show your pass before your purchase and you'll get 10% off in the gift shop & hobby shop, 15% off in the café, and 20% off on birthday parties!
We love getting to know our pass holders and we look forward to starting new traditions with you and your family!
For more information on year long passes, scroll to the bottom of the page: Pass information