Cookies and Cream Popsicles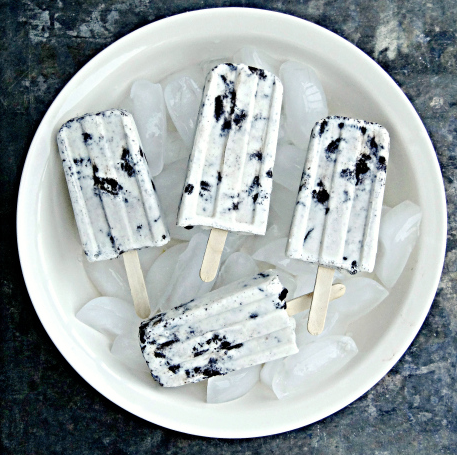 Yield:  8 to 10 pops
14 chocolate wafer cookies, about 4 oz (125g) total weight
1/4 cup (2 oz/60g) superfine sugar
1/4 cup water (2 fl oz/60mL)
1/2 cup (4 fl oz/125mL) sour cream
1/4 cup (2 fl oz/60mL) whole milk
1 cup (8 fl oz/250mL) heavy cream
1 tsp vanilla extract
Working in a small bowl, crumble the cookies to make pieces about the size of peas.
In a bowl, stir together the sugar and 1/4 cup (2fl oz/60mL) water until the sugar dissolves.  Stir in the sour cream, milk, cream, and vanilla.  Add the crumbled chocolate cookies and stir to mix.
If using conventional pop molds, divide the mixture across the molds.  Cover and freeze until solid, at least 4 hours or up to 3 days.  If using sticks, insert them into the molds when the pops are partially frozen, after about 1 hour, then freeze until solid, at least 3 more hours.
Orange Creamsicle Popsicles
1 cup orange juice (fresh or frozen. you could also use orange juice concentrate for a stronger orange flavor)
1 cup heavy cream or full fat coconut milk (you could also substitute melted/very soft vanilla ice cream)
3 tablespoons honey
¼ teaspoon orange extract
½ teaspoon vanilla extract
In a medium bowl, whisk all ingredients together. Pour mixture into Popsicle molds. Let set for 30-60 minutes, then add Popsicle sticks. Freeze for another 4-6 hours or until frozen. When you're ready to serve, run some warm water along your Popsicle mold to loosen the Popsicle and serve immediately.
Berry Coconut Lime Popsicles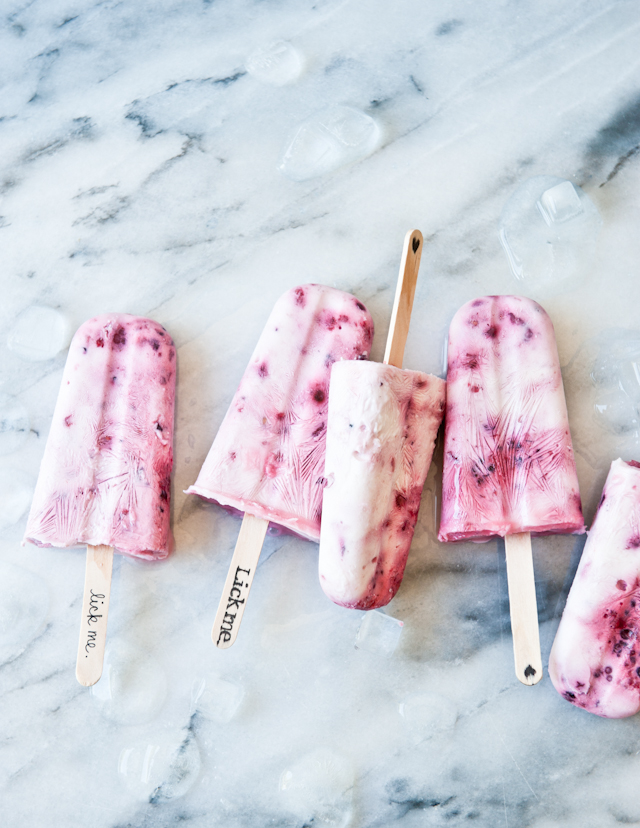 8 oz mixed berries (raspberries, blackberries, etc.)
juice of 1 lime, freshly squeezed
3½ Tbsp sugar
16 oz Greek yogurt
1/2 cup + 2 Tbsp coconut milk (with cream)
big pinch of salt
Mix together the berries, lime juice, and 1 Tbsp of sugar. Let sit for 10 to 15 minutes, then mash roughly with a fork. Set aside.  In a separate bowl, mix together the Greek yogurt, coconut milk (with cream), 2 1/2 Tbsp of sugar, and salt. Fold in the berries — juice and all — but make sure to leave streaks.   Fill ice pop molds and freeze for about 30 minutes to an hour, then insert ice pop sticks halfway. Freeze until solid — about 4 hours or overnight.  To un-mold, dip the popsicle molds in running water or leave out for a few minutes.
Easy Kid Candy and Sprite (or juice) Popsicles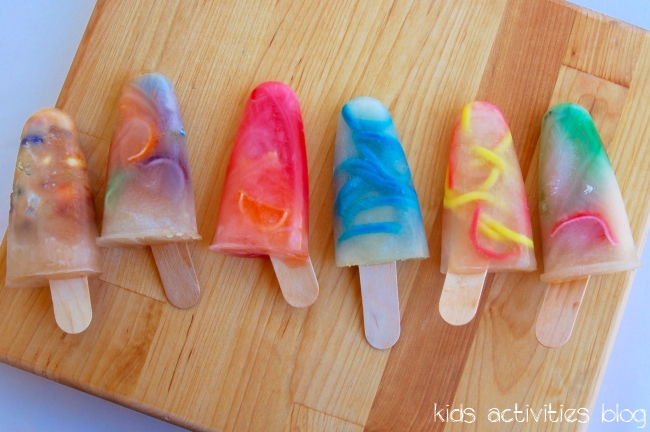 Handfuls of the candy of your choice
Sprite, or Lemonade (or any other juice of your choice)
Dump all in your Popsicle molds and let freeze for at least 4 hours.
Chocolate Covered Strawberry Popsicles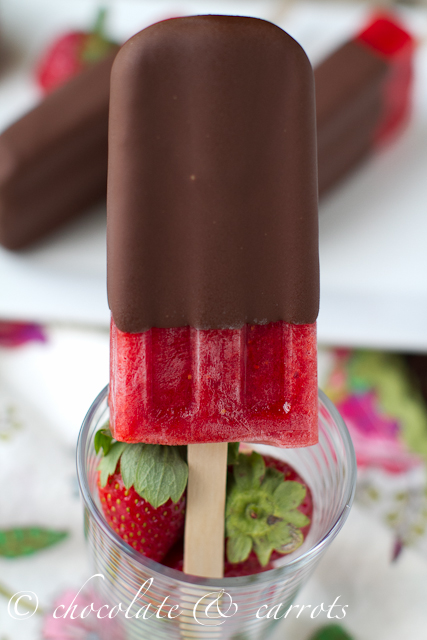 2 1/2 cups fresh whole strawberries
1/3 cup cold water
2 cups of  magic shell
How-To
Blend the strawberries and water together to make 2 cups puréed strawberries. Pour into your popsicle mold. Allow to freeze for at least 4 hours. Dip in the magic shell. Enjoy!