#33 Status Report
July 2, 2009
It's been four  months now since I've provided an update on the changes that have been made to the layout, and the changes have been many, with some being truly phenomenal.  This month I'll show you what's new in the Early Period, but I'm going to go backwards through the layout, because I want to leave the best for last.
The smelter on the left side of the aisle just before the tunnel to the Middle Period has a new siding, complete with box cars and a worker loading one of them (Figure 1).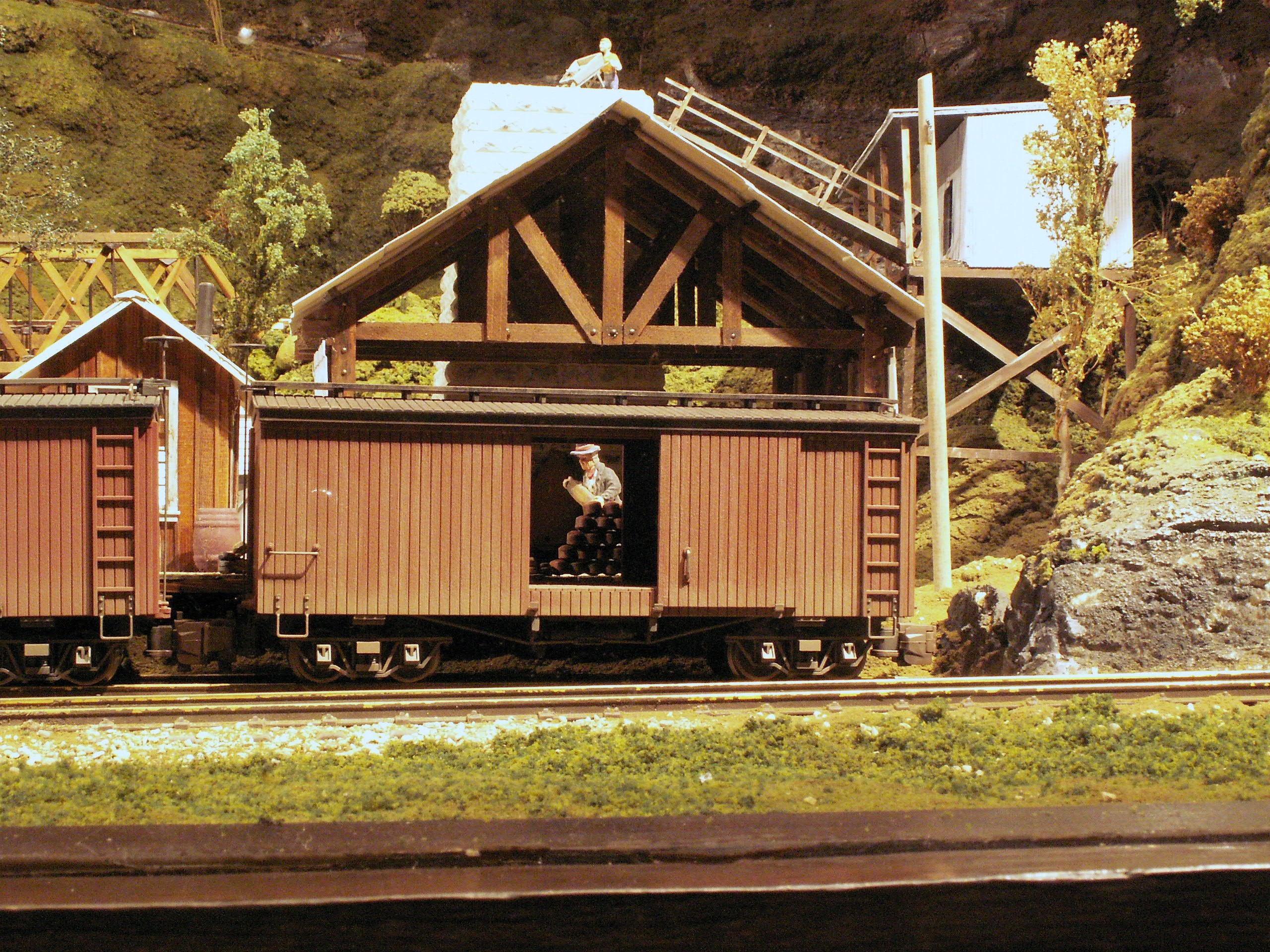 Figure 1.  Early Period Smelter Siding
Across the tracks from the company town by the smelter is a large chicken coop (Figure 2).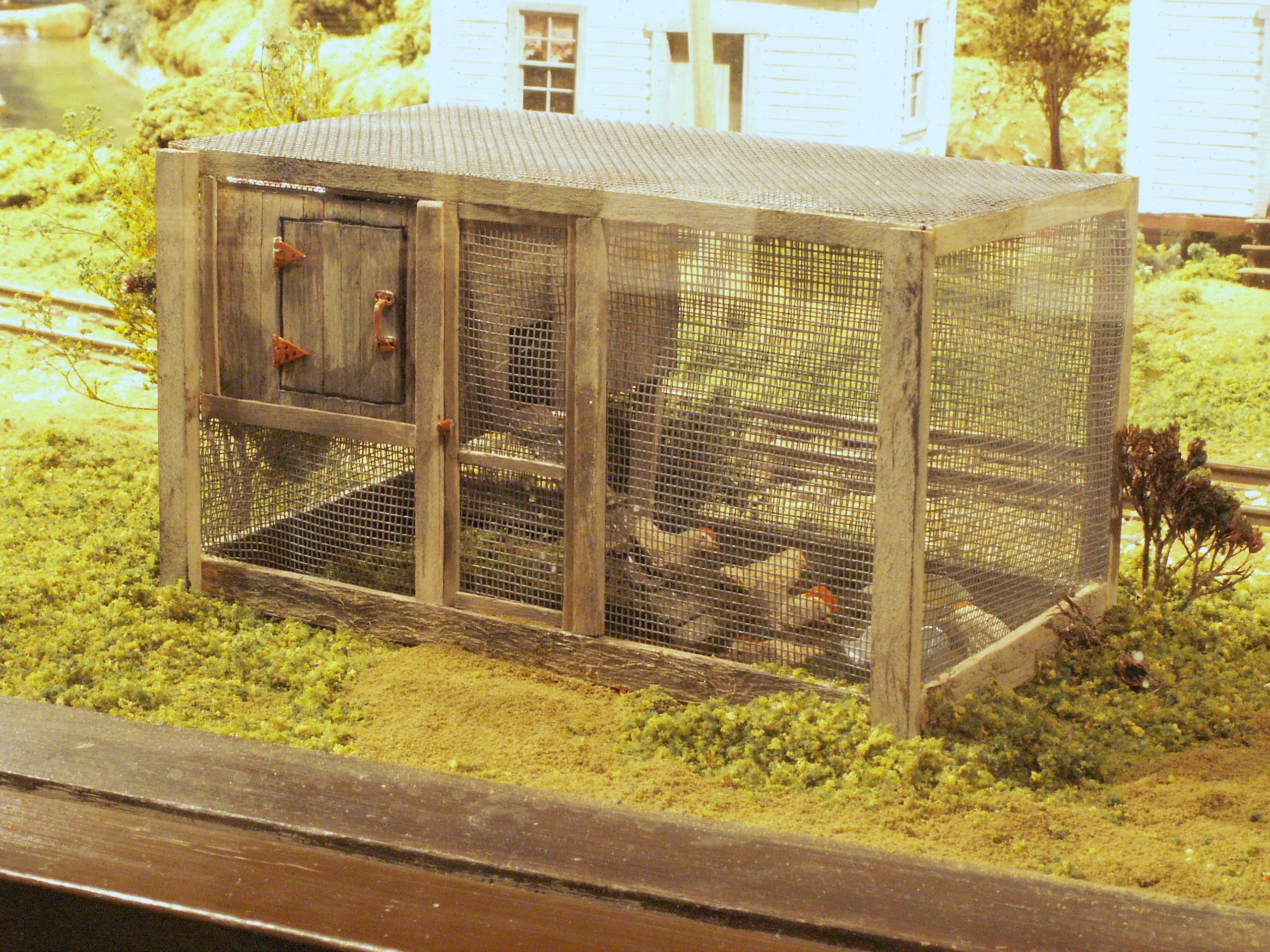 Figure 2.  Smelter Town Chicken Coop
The engine house in the logging area, at the end nearest Imagination Junction, has a new Mallet engine in the process of being lettered (Figure 3).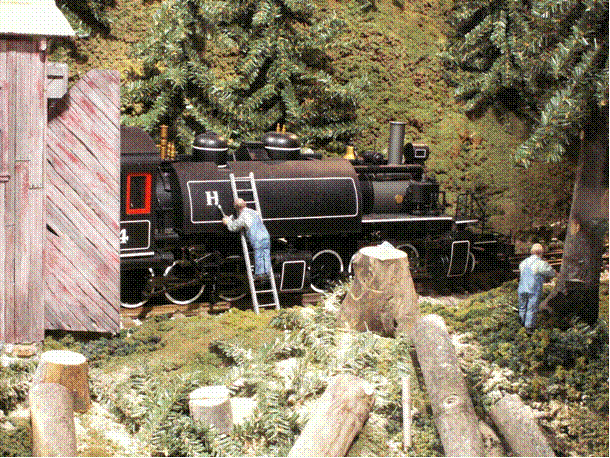 Figure 3.  A New Locomotive at the Logging Area Engine House
Next to the spur leading to the logging area engine house is the water tower provided by Jim Pugh (Figure 10).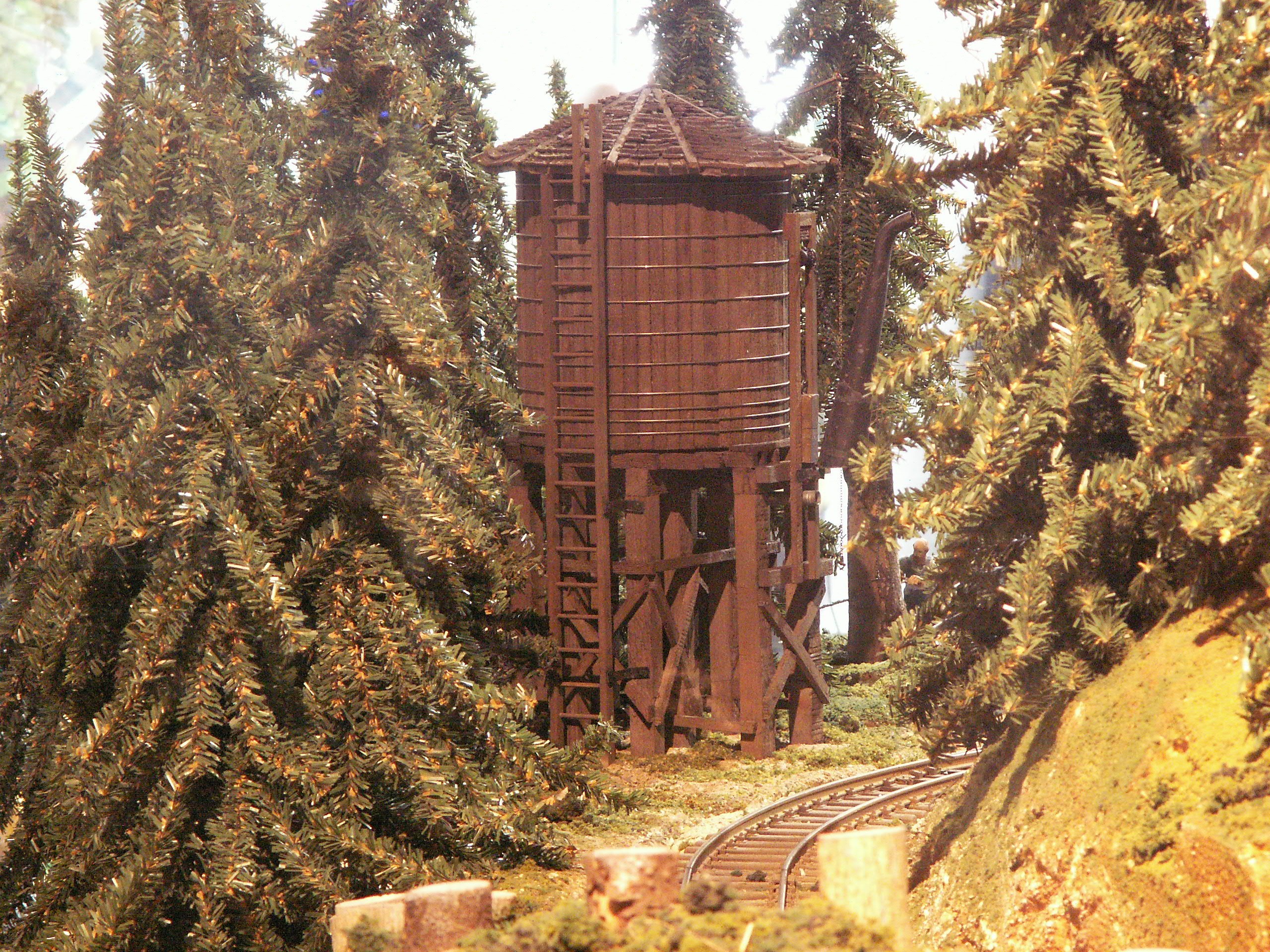 Figure 4.  Jim Pugh's Water Tower
The town by the lake has two new stations, one for passengers and one for freight (Figure 5).  The track electronics now make the passenger train stop in the siding at the station, while the freight train passes by.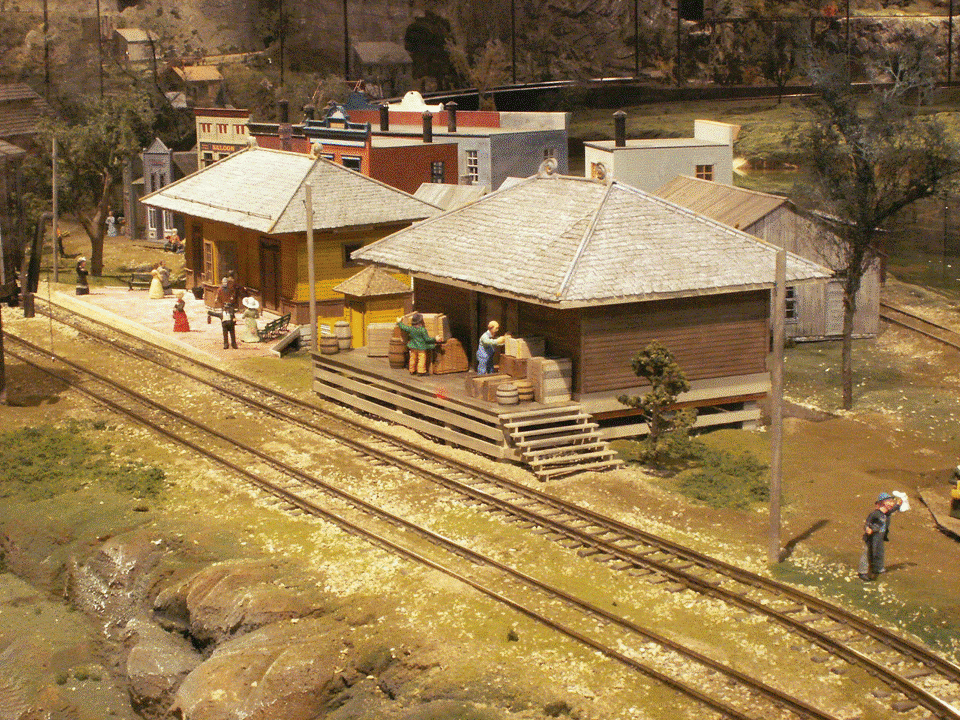 Figure 5.  New Stations at the Town by the Lake
Across the tracks from the new stations is a new water tower (Figure 6), pump house (not shown), and engine house (Figure 6 and 7).  Although these two block the view of the new stations and the town, they are beautifully modeled and in a realistic location, and so may be forgiven for their customer-unfriendly placement.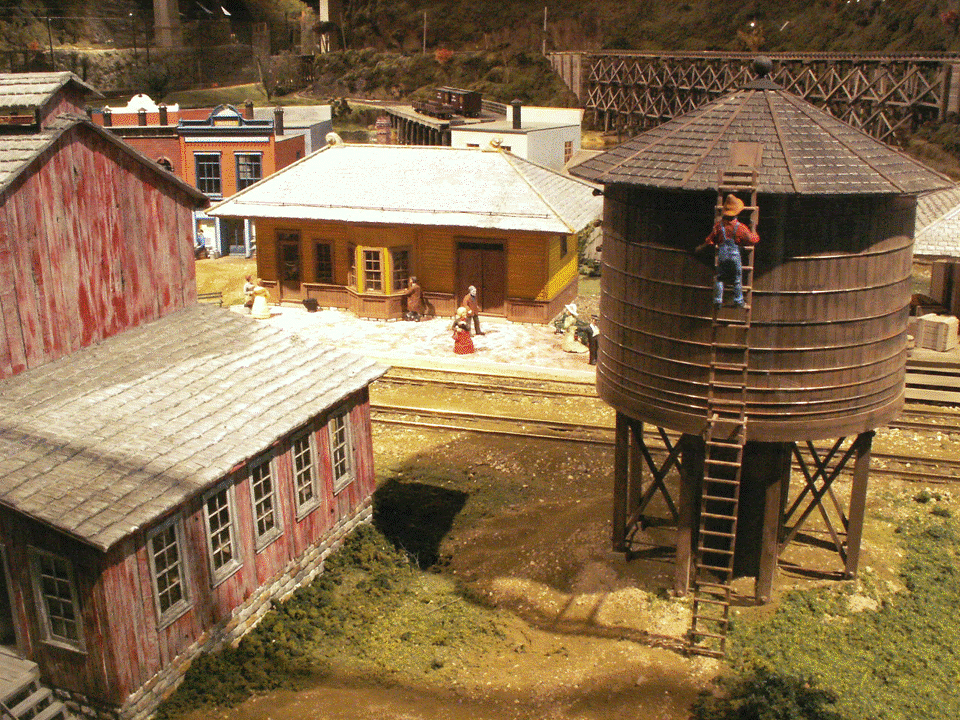 Figure 6.  New Engine Shed, Station, and Water Tower by the Lake
The engine house now justifies the existence of the gallows turntable at the end of the town (Figure7).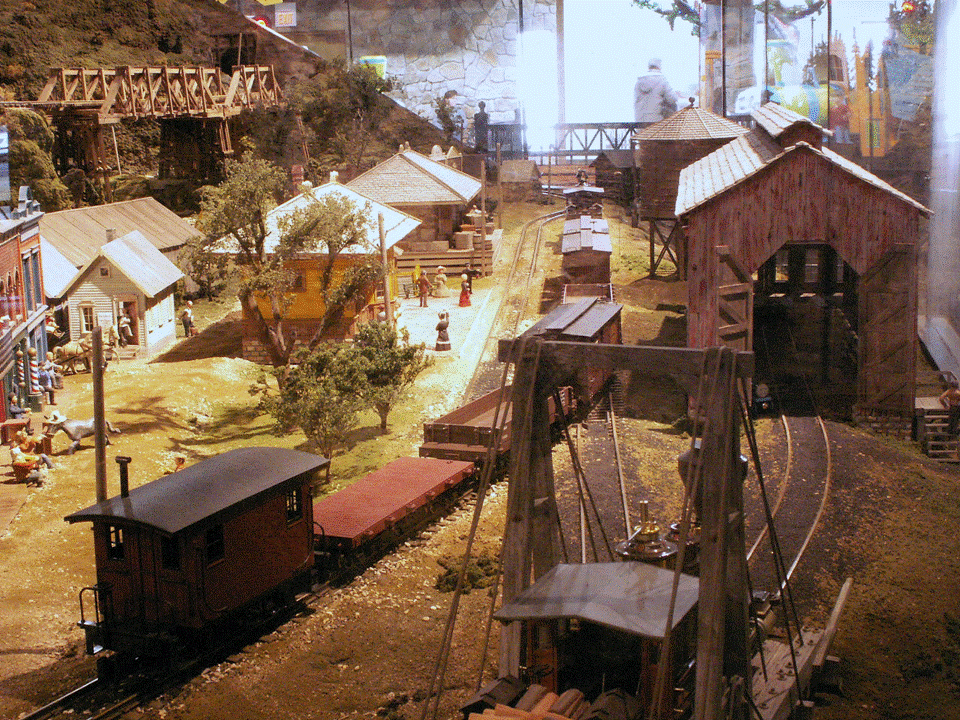 Figure 7.   Town by the Lake
Finally, the most impressive addition to the layout in this area, tied up on the shore behind the town, is an absolutely beautiful model of a stern-wheel river steamboat built by John Kitterman (Figure 8), complete with crew, passengers, and a cargo of bales of cotton (Figure 9).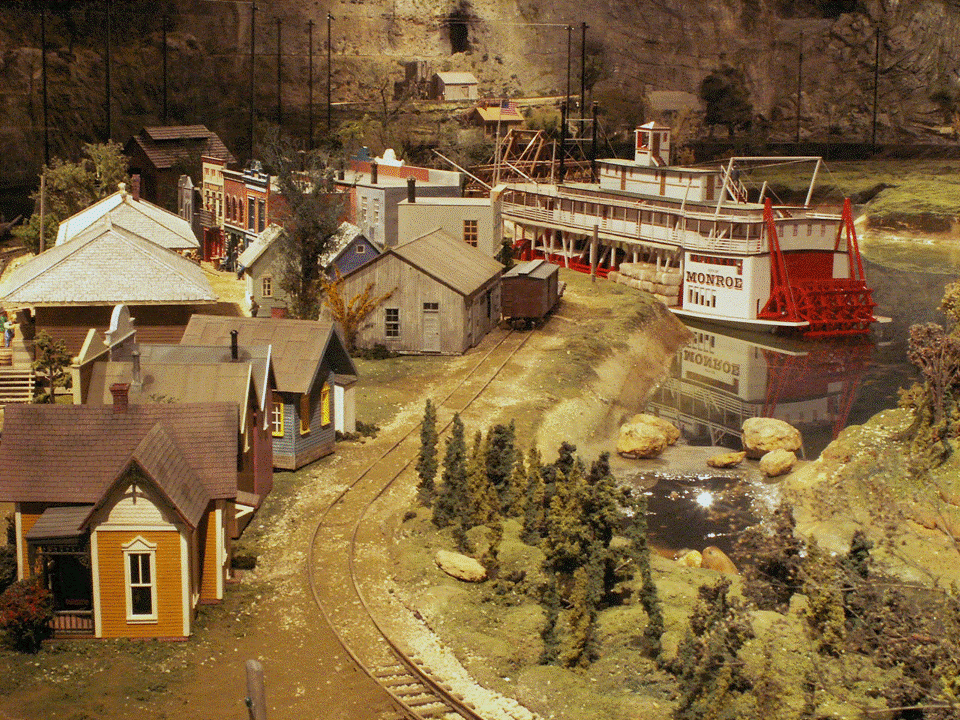 Figure 8.  Steamboat at the Town by the Lake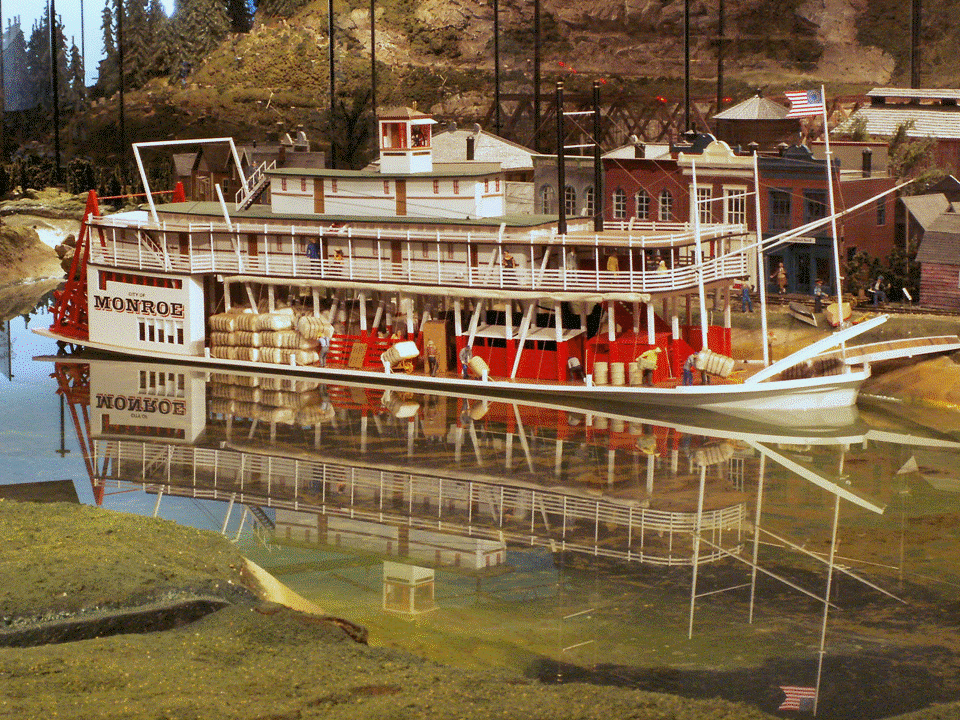 Figure 9.  The Steamboat
Neither words nor pictures can do justice to the artistry on display.  Go see it for yourselves.  And, even if you've already seen it, come back to see it again.  You'll be amazed at how much has changed and how much better it is.  It's nowhere near finished, and probably never will be, as long as lots of creativity and work continue to be applied.
There's much more to show you, but that will have to wait for next time.
© 2009 Tom Bartsch
MVGRS Big Train Project Coordinator